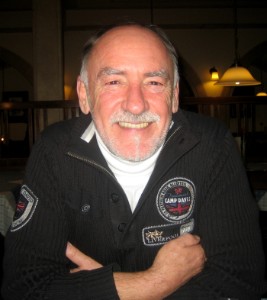 David Peter Hatton born 1951.
In my childhood days I was brought up in various cities in Europe and the Far East.
The passion to draw and paint with either a pencil or paint startetd in my childhood days and has since developed as to what it is now! After attending various courses and workshops, experimenting in various techniques, I have settled for oil on canvas using a wet on wet method.-

Over the the past years I've had several single and group exhibitions in Europe, e.g.(Freie Berliner Kunstausstellung).
The fantasy in my colourful abstract paintings do not have a specific meaning or message, they can be interpreted through the eyes of the beholder.
My artwork can be summed up in the following fantastic metaphorical quote by Kandinsky:
"Colour is the keyboard,the eyes are the harmonies,the soul is the piano with many strings.The artist is the hand that plays,touching one key then another to cause vibration of the soul"
I would like to leave something behind where people can say,this man had a lot of fantasy and showed it on canvas with his paint.
I hope you enjoy viewing my art
as much as I have enjoyed making it.
If you like it, you may buy it.